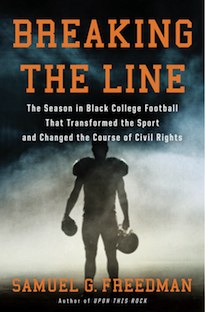 PRAISE FOR BREAKING THE LINE
"A powerful narrative of two men, two teams and the stirring battle for dignity and honor during a single tumultuous season in the 1960's South. Freedman masterfully brings to life the burning ambitions, the cleats on scrubgrass and the struggle for victory by these coaches and players not only as black athletes, but as men and as Americans. A riveting story not only of a season but of a country at the crossroads." — Isabel Wilkerson, author of The Warmth of Other Suns
"When history writes people out, it is our job to write them back in. Samuel G. Freedman has done a marvelous job of that in Breaking the Line, his illuminating account of football and race in the South." — David Maraniss, author of When Pride Still Mattered and Clemente
"Samuel Freedman is one of our most gifted chroniclers of history recent and present. Breaking the Line is as particular in the humanity it portrays as it is important for the conflict it illuminates: an Iliad of college football and social justice." — Diane McWhorter, author of Carry Me Home
"Breaking the Line graphically captures the grim terror of Jim Crow worlds in the South that defined the lives of Jake Gaither and Eddie Robinson during their coaching careers at Florida A&M and Grambling. With his beautiful prose style, Sam Freedman frames black history and the Civil Rights Movement through the lens of football. Breaking the Line reads like a novel and offers the reader a deep understanding of how football and black history intersect." — William Ferris, author of Give My Poor Heart Ease: Voices of the Mississippi Blues
"Breaking the Line is must reading for anyone interested in black history and how sport has impacted black history. Having co-authored the autobiography of Eddie Robinson, I know how important this 1967 game against Florida A&M for the black college championship was for Coach Robinson. His rivalry with FAMU coach Jake Gaither could have been the greatest coaching rivalry in the history of college football. Author Samuel Freedman captures the drama of the moment and gives the reader perspective on the times and the impact that the game would have on college football and on American society. It is a passionate and brilliant book." — Richard Lapchick, Director, Institute for Diversity and Ethics in Sport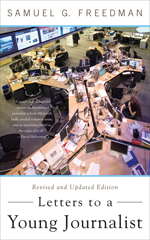 LETTERS TO A YOUNG JOURNALIST
It is no secret that journalism's mission is seriously imperiled these days, but in Letters to a Young Journalist, Samuel G. Freedman shows that the craft is not only worth pursuing but more crucial than ever. Freedman draws on his 30-year career as an award-winning practitioner and professor of journalism to inspire students and seasoned professionals alike with wise guidance, penetrating insights, and astonishing anecdotes. In this updated edition, Freedman also addresses the recent unprecedented transformations within the industry -- changes with which journalists at every level now have to contend.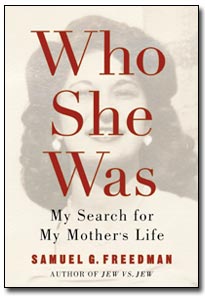 PRAISE FOR WHO SHE WAS
"A son's moving search into his mother's past. Sam Freedman uses a journalist's eye for detail and the passion of a great memoirist for truth. He manages to shed light on immigrant Jewish life in New York in the mid twentieth century, and the particular ramifications of that life on a woman. This book will resonate with any reader wanting to connect with a rich and tender past."— Wendy Wasserstein, author of The Heidi Chronicles
Who She Was is a marvel of re-creative history. Rescuing a complex life from the cloudiness of apocrypha and sentimentality, Samuel Freedman fleshes out every child's terra incognita — 'her life before me' — fastidiously reconstructing his mother's youth, adolescence and young-womanhood in the working-class Jewish east and west Bronx of the 30's,40's and 50's. Eleanor Hatkin emerges from this work as fully and unsparingly realized as any heroine in modern American literature; and here lies a secondary marvel; for all its journalistic exactitude, every page reads as dramatically taut and willfully crafted as a novel." — Richard Price, author of Clockers
"Who She Was is a precise, meticulous recreation of a woman's experience that attempts — as does all great literature — to take a stand against time and loss and insignificance. Within the pages of what the author humbly calls this "imperfect, impermanent reincarnation," a young woman, an era, and a culture now lost is restored through diligent research, eloquent prose, and a son's tender impulse to redeem his mother's brief life." — Alice McDermott, author of Charming Billy
"Apparently a memoir of one family, one mother, this story encompasses the brave, sad, fantastic tale of the Jewish struggle in America. It catches the triumph in our history while daring to look closely at our private failures, and mourn them. This book includes the way we love each other, the way we stand together, our flawed souls flapping in the historical wind while the changing times flow through each of us, impossible to avoid." —Anne Roiphe, author of Loving Kindness and Generation Without Memory
"Samuel Freedman's Who She Was is a tribute to both its subject -- the power of motherhood and the mysteries of familial love -- and to its readers: beautifully written, deeply moving, this memoir is not only a delightful read, but it is also a testament to how every life is a living and memorable embodiment of the past and history. One feels the author's affection and wonderment for his subject on every page -- altogether it is a remarkable book deserving of a wide audience. " —Oscar Hijuelos, author of The Mambo Kings Play Songs of Love
> Reading Group Guide (.doc)
> Reviews
> Interviews with Sam Freedman
> Click to download the bibliography (Word document).
OTHER BOOKS BY SAMUEL G. FREEDMAN

Won the Jewish Book Award for nonfiction from the Jewish Book Council. The judges said: "Jew vs. Jew is a thoughtful and beautifully written assessment of the precarious situation of Jewish identity in America today."

"Jew vs. Jew" was named one of the top books of 2000 by The New York Times Book Review, Washington Post Book World and the Jerusalem Post.

PRAISE FOR JEW VERSUS JEW

> Senator Joseph Lieberman says: "From Sam Freedman's eloquent and fair new book, there emerges a provocative picture of the Jewish community in America that has both flourished in the unprecedented freedom and acceptance this country has provided and been divided and diminished by that freedom."

> Reviews

> Read reviews and buy the book from Amazon
> Read reviews and buy the book from Amazon
> Read reviews and buy the book from Amazon