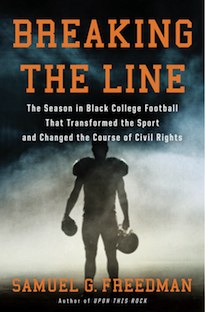 REVIEWS OF BREAKING THE LINE
Kirkus Starred Review
With campuses and the nation in an uproar over civil rights, two legendary coaches prepared their teams for a football classic.
When Texas Western's all-black starting lineup defeated national powerhouse and all-white Kentucky in the 1966 NCAA title basketball game, everyone understood immediately the historic implications. The significance of the Grambling Tigers' narrow victory over the Florida A&M Rattlers in the 1967 Orange Blossom Classic, the de facto championship of black college football, however, emerged only over time. Freedman (Journalism/Columbia Univ.; Letters to a Young Journalist, 2006, etc.) memorably revisits an era when, due to still-widespread segregation, black colleges were at their athletic apogee. Tigers' coach Eddie Robinson and A&M's Jake Gaither had already sent scores of players to the NFL, but, notwithstanding their distinguished tenures, campus militants harshly criticized both for their public silence on civil rights. Innovative coaches, father figures to countless young men, by 1967, they were marginalized, even ridiculed by a new, impatient generation that knew little of each man's struggles and achievements. Neither responded directly to the turmoil of the times, but each harbored a private ambition: Robinson to groom a player sufficiently talented and self-possessed to become a quarterback in the NFL and Gaither to play one game against a predominantly white team, a potentially explosive event for the South. During the summer and fall, they laid the groundwork for breaking both barriers. As he takes us through the season for both teams and recreates their bowl matchup, Freedman mixes in revealing information about the cultures of the schools, their rivalries with other black colleges, sensitive portraits of the coaches and players, and an evocative description of a racial and political climate that Robinson and Gaither, each working quietly, did so much to alter.
Much more than just a sports book.
Review from Ted Lehmann's Bluegrass, Books, and Brainstorms, Aug. 13, 2013
Redefining the landscape of college football, The Tampa Tribune, Aug. 13, 2013
Sports Book Review Center, Aug. 7, 2013
This Week's Hot Reads: August 5, 2013,The Daily Beast
ADVANCE PRAISE FOR BREAKING THE LINE
"A powerful narrative of two men, two teams and the stirring battle for dignity and honor during a single tumultuous season in the 1960's South. Freedman masterfully brings to life the burning ambitions, the cleats on scrubgrass and the struggle for victory by these coaches and players not only as black athletes, but as men and as Americans. A riveting story not only of a season but of a country at the crossroads." — Isabel Wilkerson, author of The Warmth of Other Suns
"When history writes people out, it is our job to write them back in. Samuel G. Freedman has done a marvelous job of that in Breaking the Line, his illuminating account of football and race in the South." — David Maraniss, author of When Pride Still Mattered and Clemente
"Samuel Freedman is one of our most gifted chroniclers of history recent and present. Breaking the Line is as particular in the humanity it portrays as it is important for the conflict it illuminates: an Iliad of college football and social justice." — Diane McWhorter, author of Carry Me Home
"Breaking the Line graphically captures the grim terror of Jim Crow worlds in the South that defined the lives of Jake Gaither and Eddie Robinson during their coaching careers at Florida A&M and Grambling. With his beautiful prose style, Sam Freedman frames black history and the Civil Rights Movement through the lens of football. Breaking the Line reads like a novel and offers the reader a deep understanding of how football and black history intersect." — William Ferris, author of Give My Poor Heart Ease: Voices of the Mississippi Blues
"Breaking the Line is must reading for anyone interested in black history and how sport has impacted black history. Having co-authored the autobiography of Eddie Robinson, I know how important this 1967 game against Florida A&M for the black college championship was for Coach Robinson. His rivalry with FAMU coach Jake Gaither could have been the greatest coaching rivalry in the history of college football. Author Samuel Freedman captures the drama of the moment and gives the reader perspective on the times and the impact that the game would have on college football and on American society. It is a passionate and brilliant book." — Richard Lapchick, Director, Institute for Diversity and Ethics in Sport